Hello everyone! I hope the HF20 hasn't really discouraged everyone too much now that version 20.5 has been implemented!
Today, after tried not to have a pedometer (and also can't find my old watch) for a few months I have finally resorted to get a new one within a thrifty budget, added with some "jazz"!
(I'll explain that part later)
So what did I manage to dig up from the nifty online store in Malaysia?
TADA.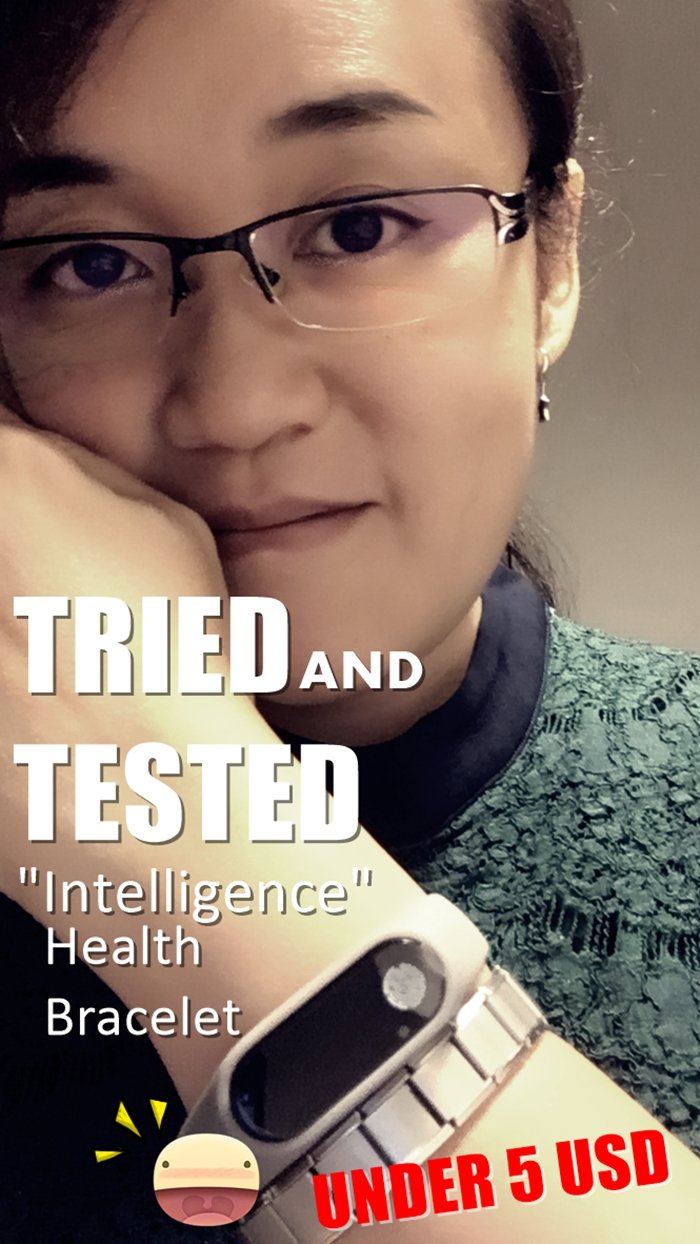 Yes, and it is less than 5 USD (excluding shipping)
YES. I am not kidding you.
You'd probably be wondering is this for real because you might not easily get it, and even my niece also mistakenly thought it was the famous MI band 2 from Xiao Mi which could cost almost 50 USD; but nope, this is a cheap version of it that does all the basic stuffs you need, minus the water proof and password unlock feature.
Yes, this little gadget under 5 USD is not water resistant; so don't go try to wash with it, or worse, swim with it if you don't want to flush your money into the toilet.
If there is a 5 USD worth of watch band that is water resistant, I think almost the whole world would be using it.
Ahem, I am digressing again…
Back to this little gadget: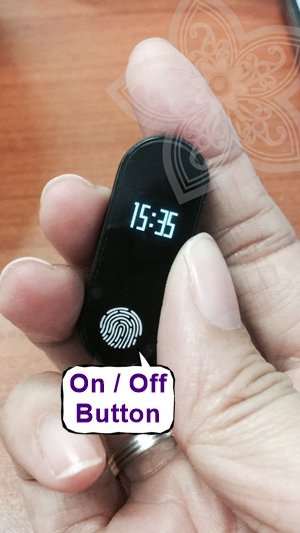 At first look, it does resemblance the MI Band 2, only that the on/off sensor has a print on it instead of a sleek surface to feel it. I like the fact that the LED display is actually quite bright compared to my last pedometer that seems to be a Fitbit lookalike.
(I didn't know about it until my friend asked me)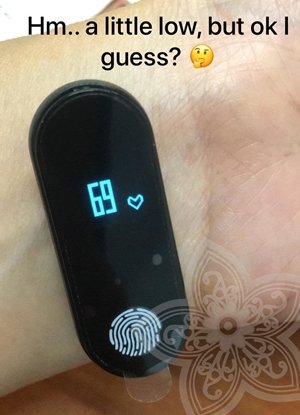 Sensor wise for the heart rate is impressive, both with or without the silicone wristband; and it is not constantly on until you decided to switch it to heart rate / blood pressure display.So this means it saves battery power; besides you don't need it to monitor you all the time.
My previous one had a button at the side, and sometimes it is quite a hassle to press on it especially after you have used it for almost 2 years (until the silicon band broke).
With this one, a gentle touch at the fingerprint area you will be able to switch from one mode to another.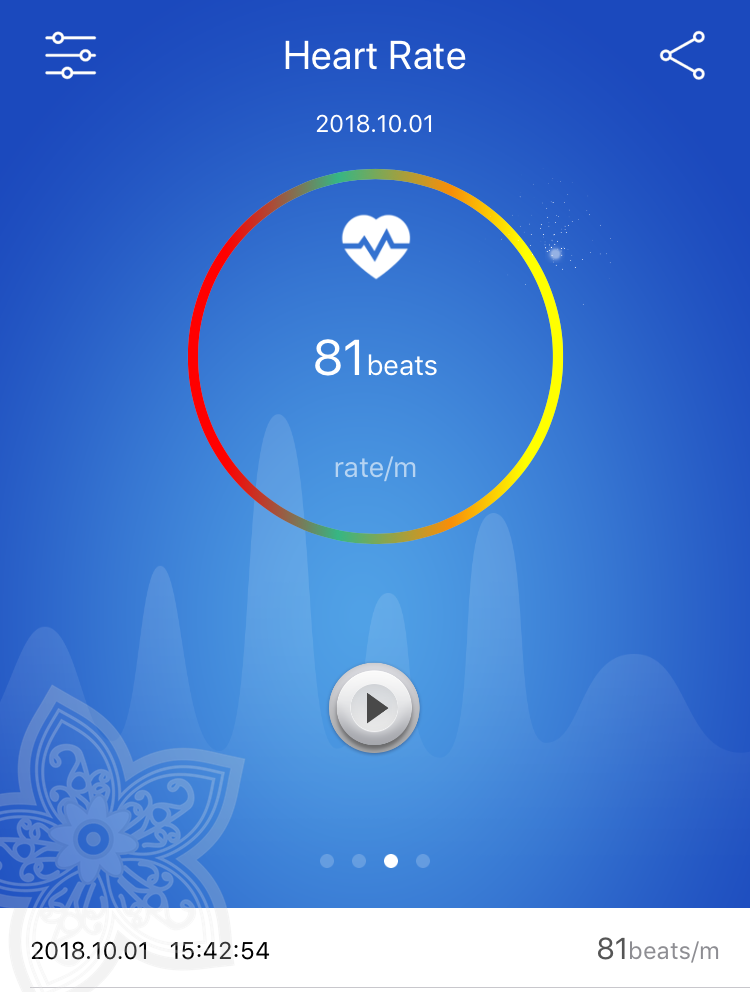 The other really cool feature is if you do not wish to disturb your wrist band, as long as your Bluetooth is on, you can go to the heart rate or blood pressure interface and you can click on the play button for it to detect your heart rate.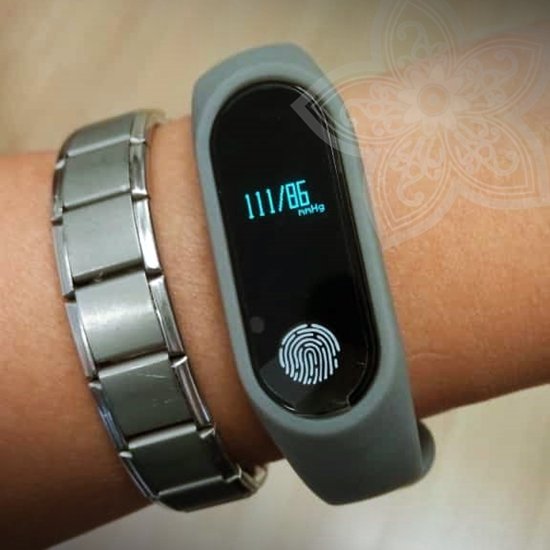 There are a lot of pedometers once strapped it on, it will not be as accurate or it will take longer time to perform readings but so far with this model, even with loosely latched on band it isn't too bad. I suppose if you press it on the skin it will detect better with the sensor light below.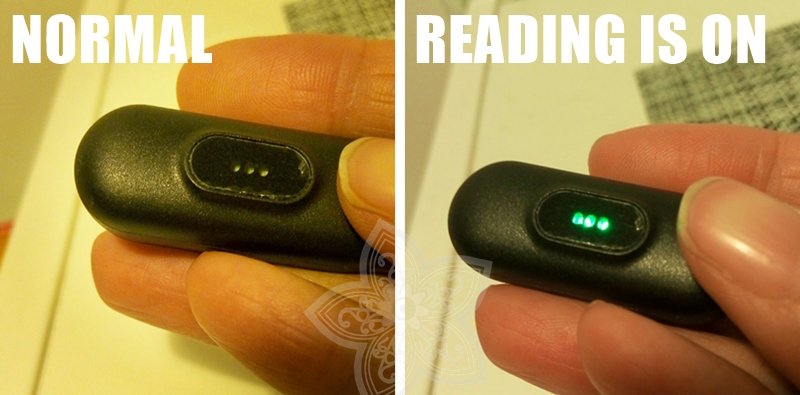 So when your pedometer interface is not switched on to the heart / blood pressure part, you will not see this green light turned on.
Another really cool feature is that you can actually turn it off, should you choose not to use it for sleep, or when you need to charge.
Even the charger dock looks a lot like the Mi Band 2's.
Geeze, talking about imitations; they are just getting better, don't they?
PRETTY COOL, NO?
Oh yes! You did notice that I mentioned about this gadget came with a little "jazz"?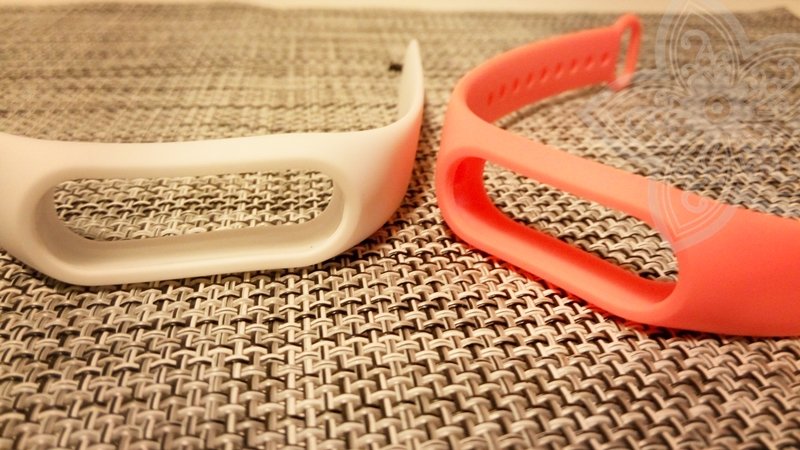 For most compatible / imitation-like pedometers out there from the real deal, they usually do not come with much selections on accessories; but THIS one, does come with a small range of colours for you to choose, from the usual ones like whites and blacks (and blacks are usually sold out), to much funkier bright colours like orange, blue, green, yellow and pink.
How much do they cost? About 1.30 USD for each coloured band. Not bad at all!
So there you go; my simple short review of my "new toy". As I continue to check on how good this is, I might actually get extra for my parents; especially for my mom who now suffers from hypertension. This will be easier for her to monitor if the readings are accurate.
For those who are interested in purchasing this, usually a single pedometer like this would usually need to add additional 2.30 USD for local shipping in Malaysia; however for those who wants to add an extra jazz into their lives they can opt to purchase extra coloured bands (or the same colour for safekeeping) to round up until 9 USD you will get free local shipping.
International wise, express will cost a bomb; so if there's anyone who's interested in bulk purchase, please do let me know if you need help and see if I can help you to arrange for a more affordable shipping deal.
So far I have checked from aliexpress.com website, it cost about 8.12 – 10 USD. Some vendors offer free shipping while others will add on a little extra for the fee.
Like it or not, I think this can serve as a pretty good Christmas present which is not too expensive, wouldn't you agree?
pst! If anyone from #teammalaysia who wants to get one, please let me know, I might want to get extra coloured bands so we can buy it together if you want to!
I hope you have enjoyed reading this simple review as much as I have enjoyed preparing it!